Contact Us
Nestled in the foothills of Sedona and framed by breathtaking panoramas of the area's famed red rocks, Bell Rock Inn offers an array of activities, perfect for any getaway. If you have any questions about the resort or would like more information, please get in touch.
Bell Rock Inn & Suites
Check-in: 4:00 PM
Check-out: 10:00 AM
6246 State Route 179
Sedona, Arizona, 86351
United States
Bell Rock Inn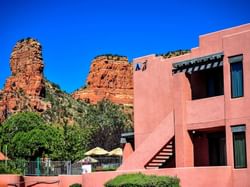 Bell Rock Inn by Diamond Resorts is a relaxed and cozy adobe lodging located in the quiet village of Oak Creek, Arizona.